Lieutenant Harcourt John Snowden
1st Hertfordshire Regiment
Killed in Action 11th January 1915
Son of the Rev. H. C. V. Snowden and Mrs. Snowden.
Rue-des-Bercaux Military Cemetery, Richebourg-L'Avoue, I. B. 13.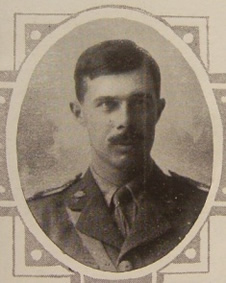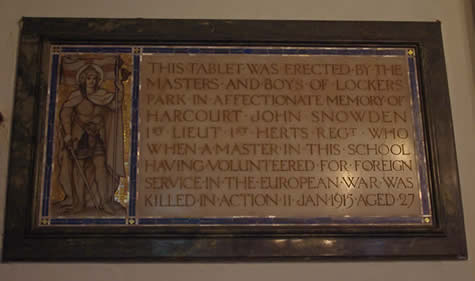 Harcourt Snowden Memorial at Lockers Park
Harcourt Snowden's death was reported in The Gazette on 23rd January 1915 (p. 5). The report said:
Yet another officer well-known in Hemel Hempstead has been killed at the front. The sad intelligence was received during the weekend that Lieutenant H.J. Snowden, of the 1st Herts Territorial Force, had been shot through the chest, and subsequent messages revealed the fact that he was the victim of a sniper.
Lieutenant Snowden, who was killed on January 11th, was the younger son of the Rev. Harcourt Snowden, of St. Peter's, Broadstairs. He came to Hemel Hempstead a few years ago as a master at Lockers Park, and he was most popular amongst the boys. He came home on a few hours' leave just before Christmas.

He joined the 1st Herts Regiment in June 1913, as a 2nd Lieutenant, and in September was promoted in France to be a Lieutenant, and he was attached to the Royston Company.

The young officer - he was 27 years of age - was a sportsman of much ability. He played cricket for the Hemel Hempstead club, and gave many excellent all-round displays. His brother is a well known Kent County player.
Recollections of Snowden are included in an interview available on the Imperial War Museums' website here. The interview is with Clifford Lane who served under Snowden in the 1st Hertfordshires. The relevant parts of the interview are on Reel 3. Lane mentions Snowden briefly at 02:50, 05:40 and 6:40. There is then a longer section (07:10-11:30) which includes an account of Snowden's death having been paralysed after being shot.
Snowden is listed in the Cricket Archive as is his brother. In addition to the memorial at Lockers Park there is one in his father's church in Kent. Further information on the 1st Hertfordshires at the time of Snowden's death is available, with other information here. His medals are recorded as having been sold in 2002.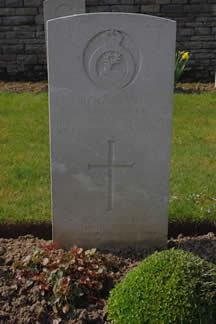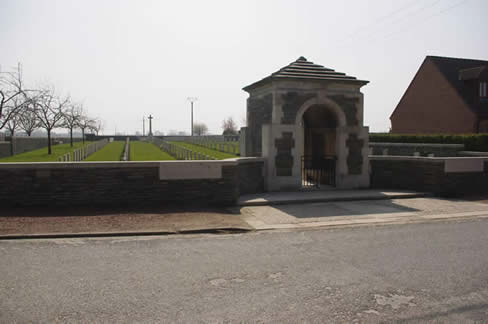 Snowden's grave at Rue-des-Bercaux Military Cemetery, Richebourg-L'Avoue. The inscription on his grave says 'Out of the stress of the doing into the peace of the done'. (Photos: Richard Grayson, 9th April 2015)
It seems likely that Snowden played golf at Berkhamsted Golf Club as he is listed on the club's Roll of Honour.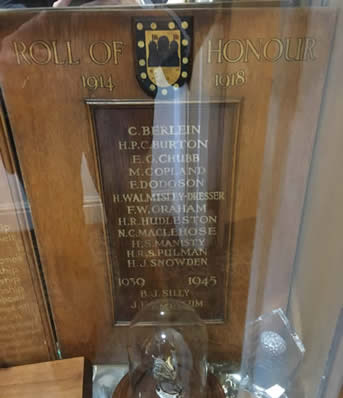 Berkhamsted Golf Club Roll of Honour
(Photo: Richard Grayson, 30th August 2019)
In the summer of 2014, Snowden's former cricket club, Hemel Hempstead Town CC, dedicated a trophy to his memory with its Under 12 team competing for it over three games against neighbours Boxmoor CC.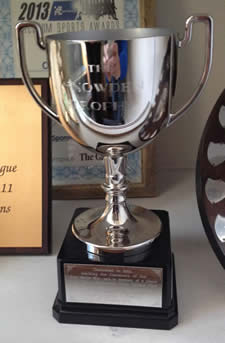 The Snowden Trophy
(Photo: Richard Grayson, 3rd October 2014)
2014
Reporting the competition on 27th August 2014, the Hemel Hempstead Gazette (p. 54), said:
The Hemel Hempstead U12s have won the Snowden Trophy - a competition named after a local cricketer killed in the First World War.

The tournament remembers Lieutenant Harcourt Snowden and has been the subject of a three-match series between Hemel and Boxmoor.

Hemel won the first match scoring 104-2 in their innings and keeping Boxmoor down to 47-6 in reply.

They then secured the trophy by scoring 96-3, with Boxmoor running up 77 for 8 in a valiant response.

In the final match, Boxmoor batted first and scored 59-7, with Hemel reaching the total with several overs to spare.

In the spirit of cricket, the game continued until dark, with Hemel amassing 114-4.

Over the series, Boxmoor's Lloyd Larkins took five wickets, with Hemel's Alfie Bordoley snaring four.

Several Hemel players took three each: Umair Hussain, Wasif Ahmed, Will Hodgins and Edward Grayson.

Leading run scorers were Hemel duo Edward Grayson on 70 and William Jack on 67, with Alex Bell hitting 54 for Boxmoor.

It is hoped that this age group will contest the Snowden Trophy from this year until at least 2018 to mark the First World War Centenary.

For 2015, the clubs plan to bring in a third club from the local area to take part.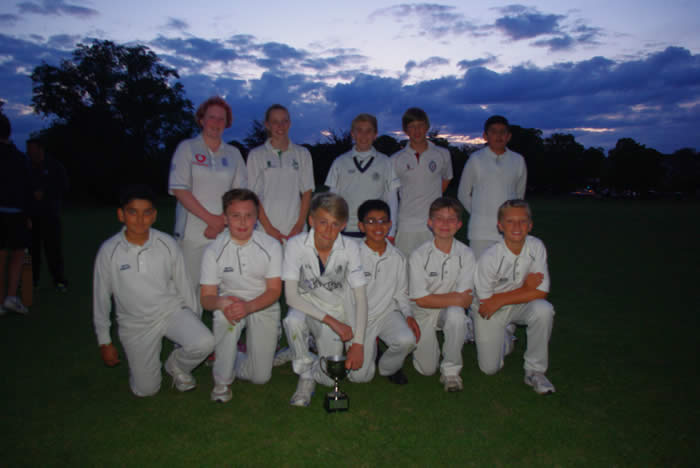 Hemel Hempstead Town's winning team in 2014
2015
For 2015, the Trophy was expanded to a three-team competition with the addition of Potten End, with the results here. Reporting on 2nd September 2015, the Gazette (p. 51), said:
The Hemel Hempstead Town U13s have retained the Snowden Trophy after winning each of their five matches in the competition.

Potten End U13 were runners-up in the three-team tournament, but Boxmoor U13 did beat Potten End once over the course of the competition.

The highest score in any one innings was 188 by Hemel Hempstead at Boxmoor on July 20, and 161 by Potten End at home versus Boxmoor - impressive run rates in 20 over games of 9.4 and 8.05 per over.

Highest individual runs scored: Max Coupland (Boxmoor) - 85; Edward Grayson (HH) - 81; William Jack (HH) - 73; Alfie Williams (HH) - 68; Jamie Wheeler (HH) - 65.

Most wickets taken: Edward Grayson (HH) - 10; Max Coupland (Boxmoor) - 5; Alfie Bordoley (HH) - 5; Harry Gilks (Potten End) - 4; Freddy Hockin (Boxmoor) - 4.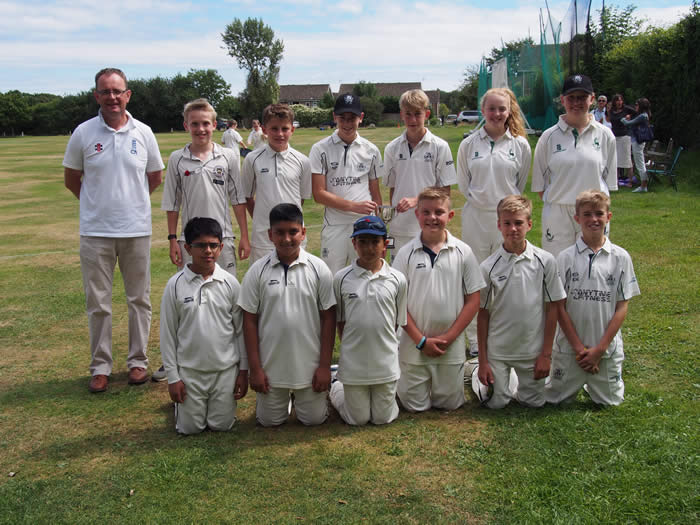 Hemel Hempstead Town's winning team in 2015
2016
In 2016, Leverstock Green joined the competition and won it on a tie breaker. Results can be viewed here. The Gazette (7th September 2016, p. 35) reported:
Leverstock Green Under 14s won the Snowden Trophy from Hemel Hempstead Town by the narrowest of margins after a thrilling final match.

Hemel had beaten Levy with some ease in the first fixture against each other (134-6 to 108-5) , then both teams went on to win all their other games against Boxmoor and Potten End to set up a final match last Thursday.

Batting first, Leverstock Green were held to 87-8 from 20 overs (Cole Seggery 39no, Edward Grayson 3 for 31), but they then kept Hemel at 82-6 in reply (William Hodgins 38 not out, and LG securing four run outs). Teams losing matches secure bonus points and taking these into account, both sides were left tied at the top of the league on 166 points.

In this situation, it came down to a variety of tie breakers and the one which separated the two teams was who had the most batting bonus points - HH had 8 to Levy's 10.

Now in its third year, with Hemel having won in 2014 and 2015, the Trophy commemorates former Hemel player Lieutenant Harcourt Snowden who was killed in action on the Western Front in 1915.
Leading run scorers in 2016 were Jamie Wheeler (Hemel, 140) and Isaac Pitblado (Hemel, 90), with leading wicket takers Edward Grayson (Hemel, 10) and William Hodgins (Hemel, 6).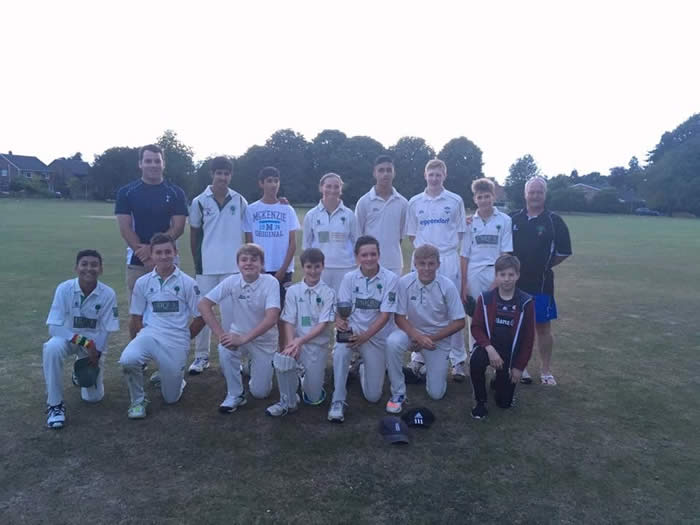 Leverstock Green's winning team in 2016
2017
In 2017, Hemel Hempstead Town regained the Trophy. Results can be viewed here. The Gazette (2nd August 2017, p. 54) reported:
Hemel Town U15s have regained the Snowden Trophy after a comprehensive victory over last year's winners Leverstock Green. With both sides recording a win in their opening games against Potten End and Boxmoor, it was winner takes all as the two teams met at Heath Park on Tuesday, July 25.

Green had Hemel in early difficulties at 34-3 and 45-6, with three early wickets for James Downes. However, Eashan Panchal (34) and Euan Mathie (17) put on 55 as Hemel crept to 111-8 from 20 overs.

Hemel made rapid breakthroughs as Green slumped to 28-7. Leverstock ended up all out for 48 in 13.4 overs, with four wickets for Alfie Bordoley, two apiece for Euan Mathie and Eashan Panchal, and one each for Luqman Khan and Jamie Wheeler.

The trophy has been played since 2014 to commemorate former Hemel player, Lt Harcourt Snowden, who was killed in action on the Western Front in January 1915.
Across the tournament, leading run scorers were Hemel's Captain Edward Grayson on 90, James Glyn (Leverstock Green) on 48, Hemel's Luqman Khan on 46 and Boxmoor's Alex Bell on 42. Leading wicket-takers were Hemel's Euan Mathie and Alfie Bordoley on eight each, followed by four each for Leverstock Green's James Downes and Hemel's Eashan Panchal.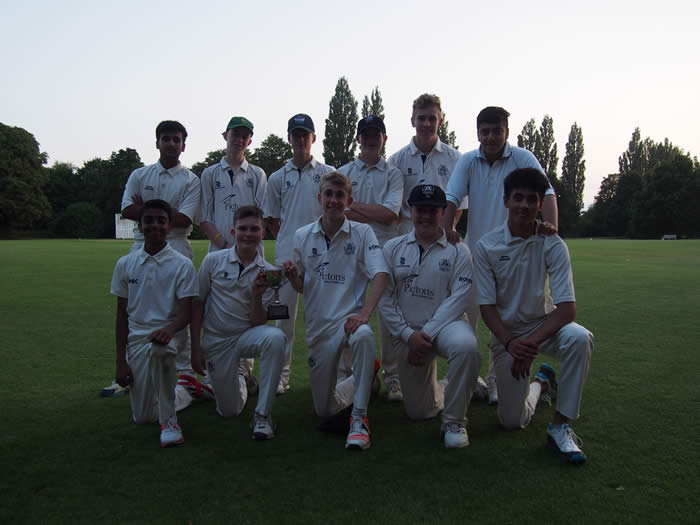 Hemel Hempstead Town's winning team in 2017
2018
In the final year of the competition, the Trophy was once again won by Hemel Hempstead Town, this time in the U16 age group. Hemel took part alongside Leverstock Green and Boxmoor. Results can be viewed here.
The final match of 2018 came at Leverstock Green on Sunday 15th July. Leverstock Green won the toss and elected to bat, scoring 129-2 from 20 overs. James Downes retired on 44 with Cole Seggery doing the same on 40. Hemel chased down the target in 17.2 overs with both Luqman Khan and Gerard Gibb retiring on 41. The winning runs came when Boz Thomson hit a six into a tree.
Across the competition in 2018, leading run-scorers and wicket-takers for the three competing clubs were: Boxmoor – Euan Mathie 6 wickets, followed by Archie Birdseye, Freddie Hockin and Josh Low on 3 each, with Alex Bell on 59 runs and Ben Mannering scoring 51; Hemel – Edward Grayson 6 wickets followed by Gerard Gibb on 5, while batting Gerard Gibb scored 79 runs and Edward Grayson 61; Leverstock Green – Dev Kotadiya 10 wickets and Hasan Ali 7, with James Downes scoring 112 runs, followed by Cole Seggery on 90.
The competition was set up to run from 2014 to 2018 during the First World War centenary, making 2018 the final year. Hemel and Boxmoor took part on all five years of the Trophy, with Potten End playing in 2015-17 and Leverstock Green in 2016-18. Leverstock Green won the competition in 2016, but Hemel won in the other four years and will retain the trophy. Remarkably, in all five years, Hemel only lost one match, to Leverstock Green, in 2016.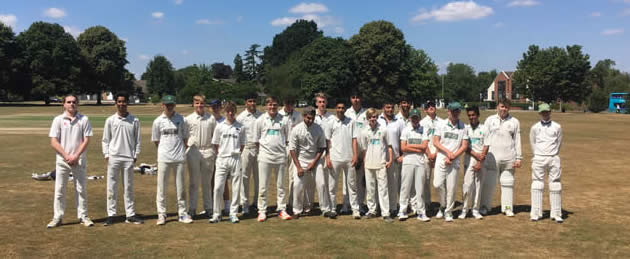 The Hemel Hempstead Town and Leverstock Green teams together after the final match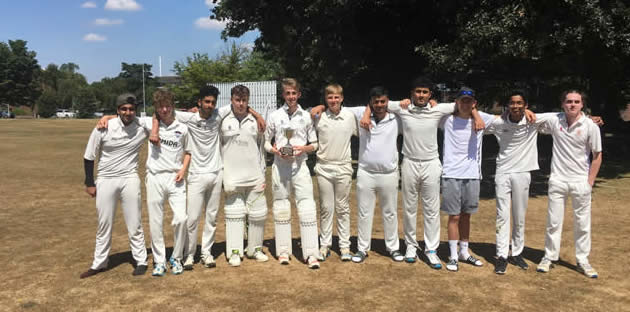 2018's winning Hemel Hempstead Town team with the Snowden Trophy